More than half of the Cancun hotels are already open
Marisol Vanegas Perez, head of the Tourism Secretariat of Quintana Roo, acknowledged that the recovery is slow in the northern area of Quintana Roo, which has a state traffic light in orange because of the coronavirus, allowing occupation of up to 30%, but are confident to close the year with an occupancy of at least 60%.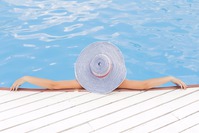 Cancun hotels reach 30% occupancy. Stock photo
So far, more than half of the lodging centers are open. June, the first month of the economic recovery, closed with the arrival of 91,200 visitors by air to Cancun, 300% more compared to the reports of April and May, the two most critical months for the economy, where losses reached three billion dollars.
The main destinations were from domestic routes such as Mexico City, which this last month transported 43,783 people to this destination, the second was Monterrey. While international routes had an increase from Dallas and Miami.
At the moment, as Sipse reports, nine international airlines are operating from the United States, Canada, and Cuba, such as Delta, American or Jetblue, and five national lines such as Viva Aerobus, Aeromexico, and Volaris.
In addition, they expect the arrival of tourists focused on the segments of weddings, conventions, and meetings, for which they are also preparing a protocol that they hope will be ready next week. According to search engines of Mexican Caribbean destinations, they expect that by September they will recover the percentage of interested people that they had last year.
Hotel occupancy in northern Quintana Roo reaches 23.5%, equivalent to the stay of 23,835 tourists, reported Marisol Vanegas. She noted that the operation of hotels on Tuesday in Cancun was 24.6% and in the Riviera Maya 21.7%, for an average of 23.5%.
Alberto Solis Martinez, president of the Association of Vacation and Tourism Complexes (Acotur), called on authorities to be more flexible and allow more hotel capacity, arguing that this will accelerate the economic recovery of Quintana Roo.
"We thought the occupancy would be lower, but people are responding, giving the impression that they are eager to travel, to get out of the stress of the pandemic," he added. The leader said the average occupation is 28 percent, but in August they are expecting 30, which is good news for the destination.
A survey conducted by Acotur revealed that of its 101 member hotels, approximately 70 currently operate, while in August they estimate that 10 more will open and the rest will begin operations from October to December, although a couple of hotels announced that they will do so until 2021.