Mexico-United States sign tomato agreement
Mexico and the United States signed yesterday in Washington the new Agreement of Suspension Antidumping of Tomato that will govern Mexican exports of this vegetable until 2024.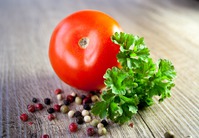 With the new agreement, the Mexican tomato is saved from paying a tariff of 25.28 percent.
On August 20 it was announced that Mexican tomato producers and the U.S. Department of Commerce managed to reach a new agreement after a negotiation process that lasted almost two years, but the signature was missing.
Under the rules of the Department of Commerce, to reach the signature of the final text had to pass 30 days for comments, which deadline was already met.
This new agreement suspends the investigation of dumping against the Mexican tomato industry that was reactivated after May 7, when the United States ended the pact signed in 2013, with which Mexico is saved from paying a high tariff of 25.28% on exports.
To achieve a new agreement, Mexico had to yield to the quality inspection requirement requested by that country, which will apply to the type of grape tomato packed in bulk, and for ball and blunt tomatoes.
Also, the minimum reference prices with which the country may export tomatoes to the United States were classified by type of product: tomato ball, blunt, grape, cherry, cluster and peduncle.