San Miguel de Allende, favorite place for lovers to get married in Mexico
San Miguel de Allende is one of the most attractive destinations in the country, due to the enormous variety of charms that fascinate national and international visitors.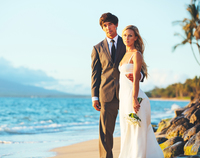 A new modality has arisen in the last years: it is the Tourism of Romance, a variant that was developed mainly in San Miguel Allende.
Only this year, it is expected that the city of the Heart of Mexico will host at least 800 weddings, and there is already a waiting list of up to a year to hold a celebration, according to Cony Alvarez, responsible for the State Government Romance Tourism.

The official explained that Romance Tourism exploded in the entity from 2015, so the following year began to record the statistics of this segment that still has a lot of potentials.
"Since 2015 the boom in San Miguel de Allende began, then they began to realize that people were coming to get married in San Miguel de Allende, but more established records began to take place in 2016."
Romance Tourism is not only about making weddings, it also includes other important celebrations such as a bachelor party, honeymoon or even a trip to formalize a marital commitment.
Romance Tourism as we all know it and somehow that's what it's called, it's nothing more than weddings, it can be any formalization trip when you give an engagement ring or a bachelor party, well the wedding itself, the honeymoon, anniversaries, renewal of vows, everything that goes with it, as it says, Romance Tourism.
There are three municipalities that lead the Tourism of Romance in Guanajuato, which are; San Miguel de Allende, Guanajuato, and San José Iturbide. The cities where most is occupied for this type of tourism is San Miguel de Allende, Guanajuato and currently in San José Iturbide. But the number one is San Miguel de Allende, then Guanajuato and then maybe the smallest weddings or people who are very close to the State of Querétaro is San José Iturbide.
Even San Miguel de Allende has had such an important position in Romance Tourism, which is estimated to currently occupy the fourth place in the matter at the national level and which is the preferred destination for "lovers", after some beaches in the country.
As for 2019 the precincts, churches, and hotels are already reserved, to host 800 weddings in San Miguel de Allende, which has caused that all the dates of the year are exhausted, so that couples interested in making their union in this city, they will have to wait until next year.
Cancun is one of the main cities where people get married, Vallarta, Ixtapa-Zihuatanejo and San Miguel de Allende would be the main cities that people are looking for.
Currently, San Miguel de Allende no longer has any date available for 2019 to be able to get married, then people are told to organize it in time to be available.
"In the city of Guanajuato, there is no registry as such. We have been investigating and investigating this information but we do not have real figures, in fact an agreement was signed in February with the precincts to be able to keep statistics and have real information about this, but in San Miguel de Allende they do have more realistic figures and there are an estimated 800 weddings for this year."
The weddings in the three municipalities of Guanajuato that are leaders in the field are "majestic", as they last up to three or four days since they usually hold previous celebrations such as alleyways, tours through vineyards or the traditional mojigangas.
"In San Miguel de Allende are very majestic weddings because they do not start the wedding day, they start a day earlier because they do the mojigangas, the alleyways, a cocktail, a walk through the vineyards, then they are events of three to four days."
Finally, the official recommended couples who wish to marry in any of these cities, plan your event with sufficient anticipation, it is a great effort to make the celebration of a marriage in these municipalities, due to the magnitude of the holidays they host.
"That they plan ahead, that they keep it in everything that is required, that they move the precinct, the hotel, the church because we also know that weddings when you want them to be so big because you have to do it with much anticipation to summon even your own guests."
By Agencies