Franchise sector in Mexico will grow 12% in 2019
The franchise industry in Mexico showed a growth of about 9.8% in 2018 and is expected a record growth of 12% in 2019, according to figures from the Franchise Association of Northern Mexico.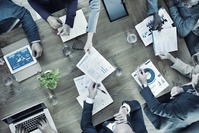 The industry had a rise of 9.8% in 2018 and this year can surpass that figure at a record level
The franchise industry in Mexico showed a growth of about 9.8% in 2018 and is expected a record growth of 12% in 2019, according to figures from the Franchise Association of Northern Mexico.
The turnover of this sector in the country is about $85 billion pesos per year and more than 1,500 current franchise brands in Mexico directly employ more than 700,000 people. Of these total brands, 84% are Mexican; the rest are foreign.
Franchises are a business model of proven success, as 90% of franchised units exceed the barrier of 5 years of life, while only 20% of other SMEs (micro, small and medium enterprises) in the country do, says the association.
According to figures from Inegi, 50% of businesses that start in Mexico go bankrupt in the course of the first 2 years, and after the third only survive between 20% and 30%, which is not very motivating and contrasts with the favorable figures of between 85% and 90% of businesses belonging to a franchise model continue operating over 5 years and with permanent profits and growth in profits, which encourages and reassures investors, says the Association.
For this reason and with the objective of offering investment options in various types of businesses, franchise brands will participate in the Seventh Edition of Expo Franquicia-T on Friday 27 and Saturday 28 September in Cintermex.
By Mexicanist
These 100% Mexican franchises are looking for funds to expand into new markets
There is a universe of 1,300 franchises in Mexico, of which 85 percent are national, an estimated 1,105; at the moment some 50 are exploring the foreign market.
The area of natural growth is Central America and the countries of northern South America because virgin markets can be found in which they can innovate, liquidity and cultural similarities.
According to the consulting firm Gallástegui Armella Franquicias, it has been two decades since Mexican franchises began to make their way abroad.
In Mexico the first foreign franchises arrived at the end of the '80s; in the '90s an enormous number of nationals were created, and in the first decade of this century the first Mexican franchises began to go abroad.
El Fogoncito's tacos were the first to export. They began 20 years ago in Costa Rica and even arrived in China for the 2008 Olympic Games. Today they have operations in Brazil, Bolivia, Costa Rica, Honduras, and Nicaragua.
Other franchises that expanded abroad are BusinessKids, Cervecería de Barrio, Green Clean, and Todo para sus Pies.
BusinessKids
Five years ago BusinessKids began its internationalization to be a guide and help children to focus their qualities, ideas, and goals to undertake.
Being a Mexican company had never been a problem until recently in Lebanon they were asked if this could be hidden.
"In Lebanon, the partners because of their regulations told us that they didn't want it to be known that it is Mexican, it will be sold from the U.S. subsidiary, but it will definitely not be hidden, we are still in negotiations," said Maricarmen Cabrera, director-general of the educational company. Currently, 87 entrepreneurship centers operate worldwide in markets such as Costa Rica, Guatemala, Spain, United States, Ivory Coast, Ireland, and are in the process of operating in India and China.
The franchise has an average cost of 15 thousand dollars with a return on investment of 12 months.
Cervecería de Barrio (Neighbourhood Brewery)
A year ago, the coyote of Cervecería de Barrio began exploration abroad in Miami, Florida, where they currently have two branches.
"We already had the infrastructure with the partner, that guaranteed that we did not go blind, we want to focus now on growing in Miami and maybe forward to other cities in the area. We have also analyzed Europe, specifically Madrid," said Benito Hernandez, the firm's director of operations.
The challenges have been that the U.S. economy is not going through its best moment, and the tropicalization of the menu because there are not accustomed to eating raw things.
They are still in the analysis of the project to define plans and structure since the investment of the first branch was $2 million dollars and the second for $500,000 dollars, said Hernandez.
Green Clean
The dry cleaner has been operating in Mexico for 10 years and already 'lava' in Colombia, Peru, Honduras, and Nicaragua, in addition to preparing the entry in 2020 to Guatemala and Panama.
"Although there are competitors, we are the only one that works with a method that uses a biodegradable liquid silicone solvent, the benefit is that the garments last longer and are softer," explained Oscar Escalante, CEO of the company.
The Green Clean franchisees, using the liquid silicone method, use up to 15 percent less water and achieve 25 percent savings in the use of electricity.
In the short term, the company is targeting the markets of Brazil and Chile.
The cost of the franchise is 150,000 dollars, with a return on investment of two to three years.
Todo para sus pies (Everything for your feet)
Todo para sus Pies has been in Central America for 15 years, with 10 branches in Guatemala, Colombia, Panama, and Costa Rica.
The short term goal is to grow five branches a year abroad, with the technique dry professional pedicure, which consists of diagnosis and treatment personified.
"We have managed to generate the culture of foot care and we strengthen it with a price offer that fits our pockets. North and Central America are big markets," said José Ignacio García, the company's CEO. The franchise is worth one million 300 thousand pesos, with a return on investment of one year.
Source: El Informador