Latin American stock markets closed in red
Most of the Latin American stock markets closed Friday with losses, after a week of pessimistic projections about the evolution of the regional and world economy, attributed to Venezuela and Argentina, to Brexit and to the commercial dispute between China and the United States.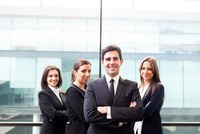 Latin American stock markets closed in red
The stock markets of the region ended down a week marked by the concern of organizations such as the IMF and ECLAC, to which the G20 joined, given the possibility that the weakening of the advanced economies will feed each other and lead to an even greater slowdown in global growth.
The International Monetary Fund (IMF) had already warned of the reduction in projections for this year of global growth, to 3.3%, while for Latin America forecast 1.4%, six tenths less than what was announced three months ago, due to the situation of Venezuela and Argentina.
Negative stele escaped Wall Street, which before the good results presented by firms such as JPMorgan Chase and Wells Fargo ended up: the Dow Jones rose 1.03% to stand at 26,412.30 points; the S&P 500 advanced 0.66% and remained at 2,907.41 integers, and the Nasdaq advanced 0.46% and stood at 7,984.16.
With this outlook, a large part of the markets in Latin America closed the week with red numbers, which in the case of Sao Paulo were attributed to the negative reaction after the president of Brazil, Jair Bolsonaro, communicated with the president of Petrobras, Roberto Castello Branco, to reverse the increase to the price of diesel. Thus, Sao Paulo lost 1.98% and its Ibovespa index, reference of the parquet, closed at 92,875 points, on a business day for 20,678 million reais (about 5,315 million dollars).
The Merval index of Buenos Aires depreciated 0.46% to 31,357.03 units, with a total trading volume of 733.16 million pesos (17.38 million dollars). The Santiago stock exchange fell 0.29% in its main index, the IPSA, which closed at 5,239.57, following an exchange of shares for 63,348,469,571 pesos (about 95.83 million dollars). Colombia's parquet fell 0.41% in its Colcap index, which stood at 1,604.97 points, after transactions for 86,209 million pesos (about 27.6 million dollars).
Those who went up
Mexico
In the opposite terrain, the Mexican market gained 0.24% and closed at 44,686.06 units, in a session in which 22,020 million pesos (1,173.7 million dollars) were paid.
Peru
The S&P / BVL Peru General Index ended in 21,099.81 whole, after rising 0.47%, with 13,350,131 soles ($ 4,047,948) in operations.