Inequality in Mexico will last more than a 100 years: Human Development Index report
Mexico has the most developed municipalities such as Benito Juárez in Mexico City, which compares with Human Development Index indicators from Switzerland and also from the lowest ones such as Cochoapa el Grande, in Guerrero, the poorest and most marginalized in the country, which is equated to the situation in Burundi and Mali, in Africa.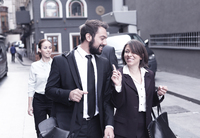 Stock image
And while it increases the average Human Development Index (HDI) in the municipalities, its rate of progress is slow. "Balancing this development would take more than a century, and in the case of Cochoapa, which will be segregated from Metlatónoc, it will take 154 years to achieve the human development of the municipality of Benito Juárez," states the study.
There are many contrasts presented by the 2010-2015 Municipal Human Development Report of the United Nations Development Program (UNDP) in Mexico, such as that of the Metropolitan Areas.
Hermosillo has an average HDI similar to that of Hungary and that of Piedad-Pénjamo equal to that of Paraguay. In the case of the Metropolitan Zone of the Valley of Mexico, the municipality of Villa del Carbón, in the state of Mexico, has 30 points less than the mayor's office of Benito Juárez.
The 74 most important Metropolitan Areas had a higher average HDI at 2.18% in 2015 compared to 2010. The UNDP Mexico Report points out that inequality is still wide between the human development of the municipalities and the interior and between the 74 most important Metropolitan Areas.
Thus, in the State of Oaxaca, one of the municipalities with the highest IDH in the country San Sebastian Tutla occupies the sixth place behind San Pedro Garza García, in Nuevo León and Coyoacán and Cuauhtémoc in Mexico City, with 4 of the lower indexes These are San Martín Peras, Santos Reyes Yucuná, Coicoyán de las Flores and San Simón Zahuatlán.
It also reveals that in 2015, 79% of the country's population lived in municipalities with high or very high HDI. And in entities such as Baja California Sur, Colima, Baja California, and Mexico City, all its inhabitants live in municipalities or municipalities with a high or very high HDI.
By Mexicanist Source Mx.undp.org