Are you traveling to Cancun? These are the best transportation options
Cancun is a tourist destination acclaimed by travelers from all over the world. The natural beauty of its beaches, reefs and other attractions have made this small city one of the most visited destinations in all of Mexico and the Caribbean.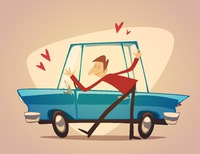 The best transportation options in Cancun
From Cancun, you can go out and visit nearby attractions and sights such as Chichén Itzá, the archaeological zone of Tulum, Playa del Carmen and other incredible destinations.
Moving from one place to another in Cancun will be an easy task after you read this article, because, there are different ways you can get to know the city, and all this will depend on the pace and the way you want to know about each location in it.
In the following paragraphs, you will learn about the advantages of each transportation service and how you can take advantage of each one of them during your tours, no matter if they are inside or outside the city.
Private transportation
In what situation should I use a private transportation service in Cancun?
One of the main reasons why you might require a transportation service in Cancun would be that you travel to the city in a group; in this case, most agencies that offer transportation services for small groups tend to have capacities of up to 15 passengers per vehicle.
This does not mean that if you are a larger group, you can't buy this type of service, but you will have to buy more than one vehicle (for this you can ask for advice with the agency where you buy the transportation service of your preference, this way you can get a better deal and your service will be much more efficient).
This type of service is ideal for families, friends, agencies and business trips, weddings or any type of event for which you need to move with a small, medium or a large group of people.
Another occasion when you must acquire a transportation service in the city is when you need to leave the city and go to a specific point, for example.
Near Cancun there are wonderful destinations that you will want to see, however, if you have your route planned and want to go to a particular destination, this is an excellent option. This way you can get to your destination quickly (the best thing about this method of transportation is that you won't have to make stops during your trip since it is a private service).
This type of transportation is the most required by all travelers who plan to arrive from the Cancun airport to their hotel or destination and vice versa, and is recommended for any type of traveler.
If you need to travel from Cancun to destinations like Hotel Zone, Playa del Carmen, Tulum, Chichen Itza, Akumal and other relevant destinations nearby you can quote a transportation service either direct or round trip in which you will have the practicality that a transportation service offers.
What advantages do I have when acquiring a transportation service in Cancun?
If you decide to buy a transportation service you have to know that the advantages you will have are enough to travel comfortably and safely. This type of service usually has additional features that you can include in your reservation to have a much more pleasant and personalized trip and the best of all is that all passengers are insured during their travels.
Car rental
In what situation should I use a car rental service in Cancun?
The most common occasion to acquire a car rental service at Cancun airport is when travelers are looking to get to know the city in every corner and want to thoroughly explore each site and representative area of it.
Cancun in particular, has many attractions inside and outside the city, and for last-minute improvised trips, car rental is a favorable option, because in addition to the fact that you can cover the necessary miles to reach your destination, with a service of these you can discover new roads and places that perhaps you had not planned to know.
The car rental service in Cancun is also used by not so big families that want to know the city in a much more pleasant and private way, because unlike the transportation service, when you rent a vehicle you can be sure that the only ones inside the car will be you and your companions.
Renting a car is also ideal to travel with friends, because if you are looking for fun in this city so happy, with a car rental service in Cancun surely can achieve its mission, because the fun and new experiences are now available at all times.
What advantages do I have when buying a car rental service in Cancun?
One of the biggest advantages you will have when acquiring this type of service is that you will be able to add an additional driver, since it is well known that road trips can be extremely tiring.
In the same way, you will be able to have the freedom to change your route, plans and so on whenever you want, because this will give you the freedom to move around the city in an easy way and it is in extreme a practical service that you will love to know new places while you are on your way to your destination, with this type of service, you will be able to make the stops you want at the time and place you require.
By Mexicanist